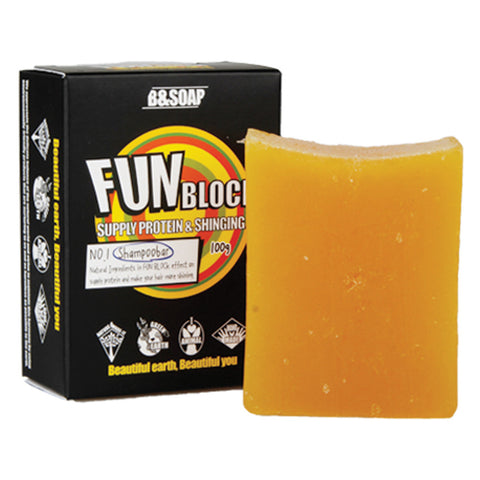 Handmade daily deep cleansing shampoo bar for hair. 
Provides nutrition to scalp with lemon and soybean. 
Contains milk protein, lemon, white soybean, coconut. 
Makes hair and scalp healthy and strong. 
Sulfates in shampoo can cause hair loss, thinning hair, and itchy on scalp.
Fun Block cleans the scalp pores, refreshes scalp & hair, and restores damaged hair with protein.  
How to use: Get your hair wet. Take the shampoo bar and rub it all over your scalp and down the shaft of your hair if you have long hair. Put the bar down and work it into a wonderful lather. Rinse with warm water. 
Main Ingredients: Milk, White soy bean, Lemon, Coconut, Lavender extract, Rosemary extract, Lemon oil, Camellia Oil. 
Orders may take between 24-48 hours to process. We accept returns within 14 days of receiving the items. Customers are responsible for all return shipping postages, unless the items are defects or our faults. (Returns will not be accepted without a Return Authorization number.) Due to the nature of the products, all returns must be in NEW, UNOPENED and UNUSED condition. This policy has been put in place due to strict health and safety reasons. The warehouse will inspect merchandise sent back for a refund and reserves the right to reject returns.
Please contact I-World customer service department to have return authorization number. Department: I-World customer service Email: customersevice@iworldus.com Phone: 562-333-8284