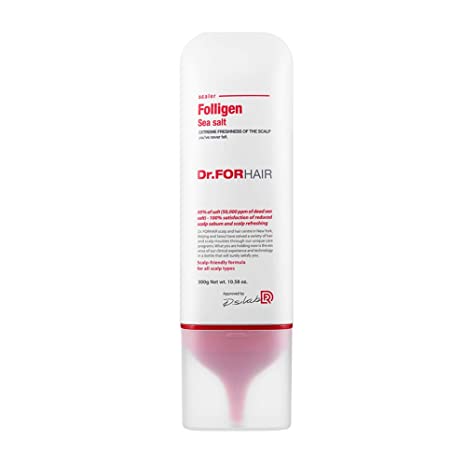 DFH Folligen Sea Salt Scaler
300g / 10.58 oz.
South Korea Hottest Beauty Show "Get it beauty 2016" Highly Recommanded!!!

Mineral-rich Sea Salt and AHA ingredients remove the dead skin cells and dead skin cells, creating a healthy scalp.

Recommended to use once or twice a week for scalp scrub and relieving dandruff.

Purifying scalp with Salt from Israel Dead Sea Soft scalp scrub with non-silicon, non-compound surface active agent and non-stimulation Avail to use as shampoo with superior efficiency for excessive sebum, fine dust and impurity of hair

Made in South Korea
Dr. FORHAIR scalp and hair centre in New York, Beijing and Seoul have solved a variety of hair and scalp troubles through our unique care programs. What you are holding now is the essence of our clinical experience and technology in a bottle that will surely satisfy you.
How to Use
Wet hair and scalp thoroughly. Place the tip on the scalp and apply directly on the scalp while sectioning hair. Gently massage and rinse thoroughly. Use 2 – 3 times a week instead of shampoo or as needed depending on scalp type. *Make sure to place cap back on after use. *Due to the large amount of salt content, the formula may be difficult to squeeze out if not used for a long time. If this happens, close the cap and shake lightly before use.

Orders may take between 24-48 hours to process. We accept returns within 14 days of receiving the items. Customers are responsible for all return shipping postages, unless the items are defects or our faults. (Returns will not be accepted without a Return Authorization number.) Due to the nature of the products, all returns must be in NEW, UNOPENED and UNUSED condition. This policy has been put in place due to strict health and safety reasons. The warehouse will inspect merchandise sent back for a refund and reserves the right to reject returns.
Please contact I-World customer service department to have return authorization number. Department: I-World customer service Email: customersevice@iworldus.com Phone: 562-333-8284