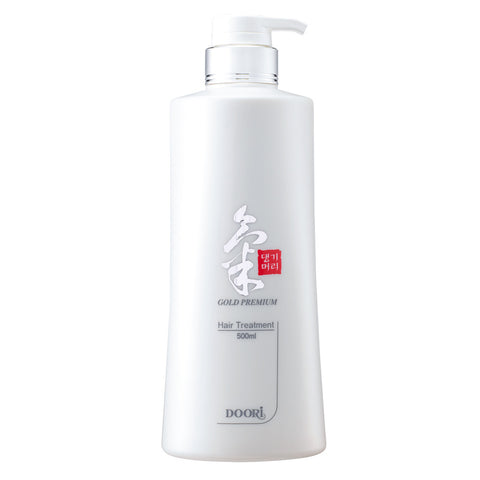 DAENG GI MEO RI KI GOLD PREMIUM TREATMENT
Contains pure medicinal herbal extracts (33% or more).

It is a mild improved product that is developed by adding the substances of green tea and changpo (Acorus calamus Linne)

Anti-oxidation, skin protection, and heavy metal removal, and detoxification.

Provides nutrition to hair through herbal medicine extracts.

Hair loss prevention.
Size: 500mL
How to use: Rinse out your shampoo

. Apply moderate amount of treatment to wet hair. 

Massage into a rich lather, covering all areas of the scalp and hair. 

Rinse with warm water.

Main Ingedients: Chrysanthemum zawadskii Herbich var, Ginseng, Cnidium, Rehmannia glutinosa Liboschitz, Eclipta prostrata Linne, Sophora flavescens Aiton, Acorus calamus Linne, Menthol, Panthenol.
Orders may take between 24-48 hours to process. We accept returns within 14 days of receiving the items. Customers are responsible for all return shipping postages, unless the items are defects or our faults. (Returns will not be accepted without a Return Authorization number.) Due to the nature of the products, all returns must be in NEW, UNOPENED and UNUSED condition. This policy has been put in place due to strict health and safety reasons. The warehouse will inspect merchandise sent back for a refund and reserves the right to reject returns.
Please contact I-World customer service department to have return authorization number. Department: I-World customer service Email: customersevice@iworldus.com Phone: 562-333-8284