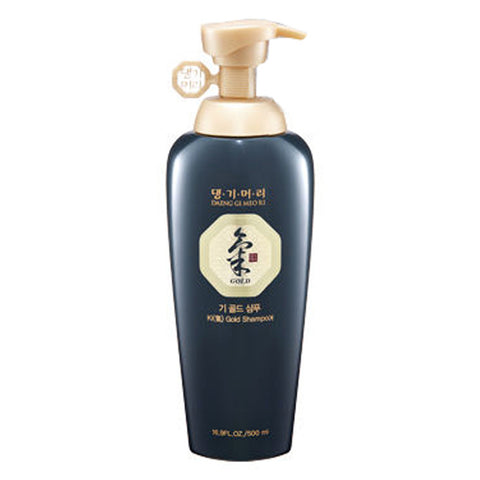 DAENG GI MEO RI NEW KI GOLD ENERGIZING SHAMPOO
Pure extract of 10 active medicinal plants decocted with a high concentration of Korea Ginseng.
Ki Gold Energizing deeply cleans the scalp and hair. It eliminates dandruff and itching.
Rich in menthol, it moisturizes and nourishes the scalp by controlling sebum secretion, ensures a beauty scalp and maintains beautiful looking healthy hair.
Miracle of Nature"high concentration of ginseng, green tea, szechunan lovage root and oriental medicine plants, Ki Gold Energizing Shampoo makes the scalp clean and adds moisture to the scalp and fatigue. 
Rich in panthenol, it maintains maximal moisture level, leaving the hair feeling velvety and smooth.
How to use:

Apply to wet hair. 

Massage into a rich lather, covering all areas of the scalp and hair. 

Rinse with warm water.

Main Ingredients: Ginseng, Korean chrysanthemum, and cnidium.
Orders may take between 24-48 hours to process. We accept returns within 14 days of receiving the items. Customers are responsible for all return shipping postages, unless the items are defects or our faults. (Returns will not be accepted without a Return Authorization number.) Due to the nature of the products, all returns must be in NEW, UNOPENED and UNUSED condition. This policy has been put in place due to strict health and safety reasons. The warehouse will inspect merchandise sent back for a refund and reserves the right to reject returns.
Please contact I-World customer service department to have return authorization number. Department: I-World customer service Email: customersevice@iworldus.com Phone: 562-333-8284