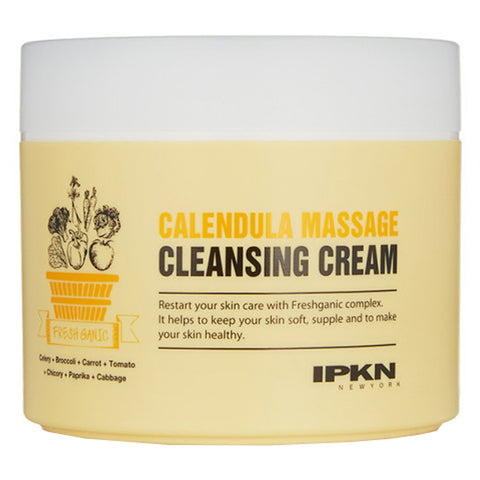 IPKN Calendula Massage Cleansing Cream
Restart your skincare with Freshganic complex.
Calendula Massage Cleansing Cream is a soft and mild cream that provides deep cleansing. Real calendula petals gently exfoliates and gives a mild massage. It removes makeup and impurities and keeps your skin soft and clear with Freshgranic complex containing celery, broccoli, carrot, tomato, potato, cabbage, chicory, paprika, and more. 
How to use: Apply onto skin and massage for 2-3 minutes. Rinse thoroughly with water. 
Orders may take between 24-48 hours to process. We accept returns within 14 days of receiving the items. Customers are responsible for all return shipping postages, unless the items are defects or our faults. (Returns will not be accepted without a Return Authorization number.) Due to the nature of the products, all returns must be in NEW, UNOPENED and UNUSED condition. This policy has been put in place due to strict health and safety reasons. The warehouse will inspect merchandise sent back for a refund and reserves the right to reject returns.
Please contact I-World customer service department to have return authorization number. Department: I-World customer service Email: customersevice@iworldus.com Phone: 562-333-8284