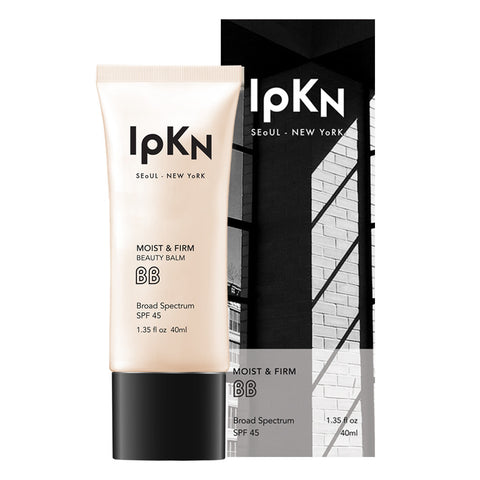 IPKN MOIST & FIRM BEAUTY BALM
Broad spectrum SPF 45
MOISTURIZING BB TREATMENT
- Hydrating gel delivers moisture and nutrients, making it an effective skin moisturizer.
NATURAL COVERAGE & FLAWLESS FINISH
- Stressed blemishes like melasma and freckles are easily taken care of. it applies perfectly to the skin, feeling natural with complete coverage.
LIGHT AND SOFT APPLICATION
- Vitamin E heals scare and damaged skin cells. It soothes the skin in addition to blemish coverage. The moisture silicone barrier boasts a non-sticky matte feeling, making any additional powder unnecessary.
AVAILABLE IN 5 DIFFERENT SHADES
- Fair / Light / Light - Medium / Medium / Medium - Tan
How to use: After base makeup, apply a small amount onto the face. No need for additional makeup base or foundation.
Main Ingredients
-Ceramide 3: Moisturizer
-Collagen: Wrinkle Care
-Tocopheryl Acetate (Vitamin E): Antioxidant
Niacinamide: Brightening
SIZE: 1.35 Fl. Oz. / 40mL
Orders may take between 24-48 hours to process. We accept returns within 14 days of receiving the items. Customers are responsible for all return shipping postages, unless the items are defects or our faults. (Returns will not be accepted without a Return Authorization number.) Due to the nature of the products, all returns must be in NEW, UNOPENED and UNUSED condition. This policy has been put in place due to strict health and safety reasons. The warehouse will inspect merchandise sent back for a refund and reserves the right to reject returns.
Please contact I-World customer service department to have return authorization number. Department: I-World customer service Email: customersevice@iworldus.com Phone: 562-333-8284