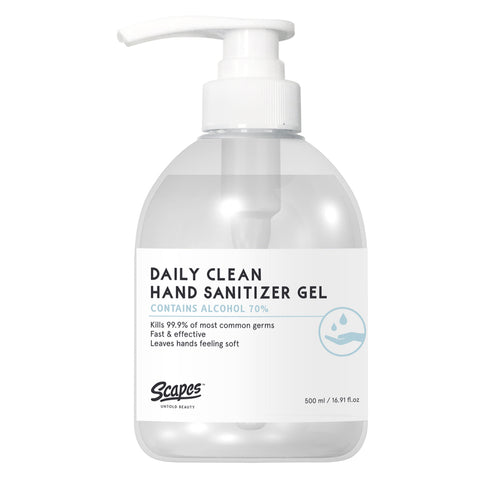 SCAPES Daily Clean Hand Sanitizer Gel
Stay safe and healthy with SCAPES Daily Clean Hand Sanitizer Gel. This lightweight hand sanitizer gel is formulated with Alcohol 70% to help reduce the spread of germs that can cause illness without damaging your skin. 
SCAPES Daily Clean Hand Sanitizer Gel give the skin an instant splash of freshness with light citrus scent while soothing and moisturizing skin. 
FDA Registered. NDC#:  74351-2609-1
This hand sanitizer gel meets U.S Food and Drug Administration (FDA) healthcare personnel hand-washing requirements.
Active Ingredients: Alcohol 70%
Inactive Ingredients: Water, Aminomethylpropanol, Carbomer Homopolymer Type C (Allyl Pentaerythritol Crosslinked), Orange, Fragrance, Propylene Glycol, 1,2-Hexanediol, Denatonium Benzoate, Citra , .Beta.-Citronellol, (R)-, Limonene, (+)-, Linalool, (+/-)-
Manufactured in South Korea.
Orders may take between 24-48 hours to process. We accept returns within 14 days of receiving the items. Customers are responsible for all return shipping postages, unless the items are defects or our faults. (Returns will not be accepted without a Return Authorization number.) Due to the nature of the products, all returns must be in NEW, UNOPENED and UNUSED condition. This policy has been put in place due to strict health and safety reasons. The warehouse will inspect merchandise sent back for a refund and reserves the right to reject returns.
Please contact I-World customer service department to have return authorization number. Department: I-World customer service Email: customersevice@iworldus.com Phone: 562-333-8284